Happy Monday everyone! And Happy 6 month wedding anniversary to Keith and I!
Roasted Cauliflower Risotto-
This is a Food Network Magazine recipe I made over the weekend. It was so so good, and I can't wait to share the recipe with you.
BBQ Ranch Chicken and Cheddar Pizza Roll 'em Ups-
This recipe is from Picky Palate. Don't these look fun? We're looking forward to trying them out this week.
Brownie Hearts & Bites-
My sister will be over on Saturday and I think she would love these! From Martha Stewart.
Wedge Salad-
Just a simple side salad I will be serving alongside the ravioli.
Turkey Tostadas-
We'll be having dinner at my parent's house this week with my mom and sister and I plan on throwing this together for the four of us.
Heart Shaped Raviolis-
Keith's sister Kelly picked these up for us. Aren't they cute? I know its not a 'recipe' I can share, but they're on our menu for the week and were too adorable to not share with you all.
I will also be selecting a favorite soup to share for Tidy Mom's
Soup-a-Palooza
on February 15th.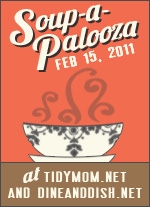 I will share the recipe and link with you all next week on Tuesday, February 15th but I'll be picking my contender this week and cookin' it over the weekend.
If you have a favorite soup you'd like to share link up too!