It is amazing how much one can accomplish with just one extra day on the weekend. I was able to make it to my 27 week doctor appointment (our baby is healthy, very busy and I'm gaining right on track), the dentist, Target and Trader Joe's. After all that I came home and made a caramelized garlic cheese spread, pumpkin spice cookies with cream cheese frosting and peanut butter banana bread. Whew, I'm exhausted just thinking about it!
This pasta dish lived up to all its "reviews" on
Fake Ginger
and
The Girl Who Ate Everything
, we give it our seal of approval too. Really, I think the
secret ingredient
that makes this so delish is the cream cheese.
Taco Pasta
For a printer-friendly version click here.
INGREDIENTS
1 pound ground beef or turkey
8-12 ounces medium pasta shells or other small dry pasta shapes
1 small onion, chopped (about 1 cup)
1 clove garlic, minced
1 (14 oz.) can diced tomatoes with mild green chilies, drained
1 packet (4 tablespoons) taco seasoning (I used
HOT
, but next time I would tone down the
spice
)
3 ounces cream cheese
1/2 cup sour cream
1/4 cup chopped cilantro
Salt and pepper
DIRECTIONS
Bring a large pot of water to boil. Cook pasta according to the package directions. Drain, reserving 1/2 cup of pasta water. Set aside.
Meanwhile, in a large skillet or sauté pan, cook the ground meat over medium-high heat until no longer pink. A few minutes before the meat is cooked through, add the chopped onion to the skillet. Once the meat is cooked through, mix in the garlic and cook until fragrant, about 30 seconds. Add in the diced tomatoes and taco seasoning and let simmer over medium heat for about 3-5 minutes.
Stir in the cooked pasta, cream cheese, sour cream and reserved pasta water, and continue stirring until the cream cheese is melted and the sauce is well blended. Season with salt and pepper to taste. Simmer over medium-low heat 3-5 minutes to reduce the sauce a bit if it is still too thin.
Toss in the cilantro right before serving for some fresh color and flavor. Serve with a green salad.
I'm linking up with
33 Shades of Green
today for Tasty Tuesdays, so please pop on over there and see what delicious and delectable things everyone else has shared. I'm also linking up with
Lady Behind the Curtain for Cast Party Wednesdays
, so please make sure to visit that party too!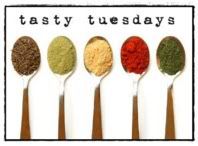 Recipe courtesy of: Fake Ginger via The Girl Who Ate Everything