This week has felt pretty long and I'm pretty tired, but I'm still so excited it's Friday!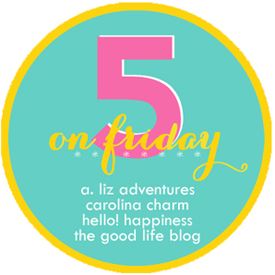 I'm linking up again this week with Darci of
[the good life]
, April of
A. Liz Adventures
, Christina of
Carolina Charm
, and Natasha of
Hello! Happiness
for 5 on Friday! Here are 5 things I want to do, buy, bake and make:
DO:
Watch Veep all day long! Keith and I just started watching this show this week and it is SO funny! SO far we've watched 5 episodes and I can't wait to watch more. Julia Louis-Dreyfus has the most spot on comedic timing ever and I can't get over
Anna Chlumsky being on it either. This is a hilarious show, you have got to watch it!
DO:
Tonight my sister and I are going to see John Mayer in concert! I've wanted to go for
years
, but Back-to-School night always fell on the same night of his concerts when he was touring in our area -- totally bummer, until now!
BUY:
I have been doing a pretty good job of making it to the gym in the last couple weeks (I'm still sore from that TRX class of Tuesday) and I think I deserve a little reward. This
Lululemon run: tame me tank
would also be some extra motivation to keep. on. GOING!
BAKE:
I love a good bar. They seem to always be moist and have so much flavor! I'm itching to make these
Strawberry Lemon Cheesecake Bars
this weekend.
MAKE:
A while back Jennifer of
Life in the Green House
made these
DIY creaseless hair ties
. I had them on my list of crafty things I want to make since she posted about them in May and I'm finally going to order the elastic today. I think they would make a great addition to a little new mom care package, a goody bag at a shower / bachelorette ad perfect for the gym of course!
Happy Friday, friends!