Hello, Friday! I almost can't even believe it's Friday again, because last Friday I was laying by the pool in Vegas with a pool drink in my hand...
and that seems like just yesterday!
1. First things first
-- how about those Giants?!! I'm so excited they're going to the World Series for the 3rd time in 5 years! Go Giants!
2. Sleepy Music Suggestions?
Our bedtime routine is going really well, but I'm still feeling majorly guilty when I lay O down in his crib for the night and he stands up and say, "Noooo, don't leave me all alone, mommy". He always has his blanket, lights are out, his Twilight Turtle is on, as is the white noise. I think we have a pretty good combo things going to help him drift off, but instead of the white noise I'm wondering if some nursery rhymes / bed time songs might help too. Any suggestions?
3. We love Sugar Bit!
Have you entered the
Sugar Bit giveaway
I'm hosting this week? If not, there's still time! We love how easy the
Boys Fall Harvest Applique Shirt and Pant Set
by Vive La Fete is to wear, wash and play in! I'll be putting O in it again today for a trip to a preschool Fall Festival.
4. DIY Homemade Crayons!!
How cute is this idea for a sugar-free / candy-free Halloween goody bag? I'm not sure if his class will be exchanging treats together, but if we do I'm all over these!
5. Half Moon Bay Pumpkin Festival -
We're SO excited for the Half Moon Bay Pumpkin Festival this weekend! Each year O gets more and more into our traditions, and I think this year will be the most fun yet!
And a little housekeeping...
The winner of the
Three Designing Women Holiday Gift Basket
is Elizabeth B.! Congratulations, Liz!!!
And I'm linking up with a whole lot of people today!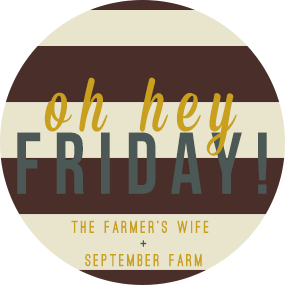 Friday Favorites with
A Little Bit of Everything
,
Momfessionals
, and
Grace and Love
.
I hope everyone has a great weekend! xoxox