Hey there, happy Friday!
1. Halloween Fun -
In the last few weeks O has been seriously living it up in the Halloween / Pumpkin Patch / Fall department. He's been wearing his pirate costume like it's going out of style! He's actually going to be a dinosaur on Halloween, but his pirate costume is so much easier to wear while playing.
2. Kiwi Crate -
A little while back I signed up for a Kiwi Crate subscription for O and we have bee loving it! If you don't know about Kiwi Crate, it's a monthly subscription box that encourages kid's creativity and curiosity through science, arts & crafts, imaginative play, etc. In our most recent box we had a project where we created a catapult and then a castle. As you can see O
looooved
the catapult!
We usually save the box for long afternoons between the end of nap time and when I need to cook dinner -- that way O has something to keep him busy while I cook!
If you'd like $10 off your first box, use
this referral link
(and we'll get $10 off our next box too)!
3. Spiders & Pumpkins -
Our front door is ready for Halloween! We've got 7 pumpkins -- two of which are white because those are O's favorite -- and spider webs with jeweled spiders. This is about as spooky as I get, folks! Have you seen
these creepy houses
?
4. Apple Cider Sangria -
I'm whipping up a batch of
my Apple Cider Sangria
this morning to bring to our friends house tonight! We're getting together to watch the Giants v. the Royals in game 3 of the World Series. #goGIANTS!!!
5. Family Photos - Our family photos are goin' down in a little over a week and I'm currently scrambling to figure out what we'll all be wearing. I'm trying to use what we have, but it's proving a little difficult to create a cohesive "look" while not making it too matchy-matchy either. Pinterest makes it all look so easy! My fave look is the one below.
Well, I think that's all for now, my friends! Have a lovely weekend!
And I'm linking up with a whole lot of people today!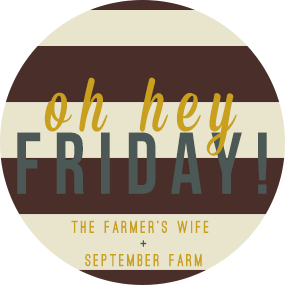 Friday Favorites with
A Little Bit of Everything
,
Momfessionals
, and
Grace and Love
.