Good morning and happy Friday! We've had a really nice week with some great rainy days and lots of fun, so we're ready for the weekend. Let's get on with it!
Still trying to decide what to make for dessert for Thanksgiving this year? Consider these
4-Ingredient Mini Pumpkin Pies
! I promise they're really easy to make, and everyone loves miniature food!
It was pouring rain yesterday on our way home from school, so I promised O that after nap time we'd put on our boots and coats and stop in the puddles. By the time he was up the rain had almost stopped and the puddles were drying up, which of course kick started a round of O's favorite new questions, "Why?". Everything is "Why?" lately...
O: Why is the wind blowing the clouds?
Me: Because the wind is blowing.
O: Why is the wind blowing?
Me: Because the weather is changing.
O: Why is the weather changing?
Me: Because we're getting closer to Winter.
.... you get the idea! It's really sweet, and I know he is asking because he is interested in the world around him, so I don't mind answering "Why?" questions all day long, but I am running out of answers a 2 year-old can understand!
The time change is still having an affect on us. I had hoped it might work in our favor, the sun going down earlier = an earlier bedtime, etc. Unfortunately though, we're still not making it to "lights out" any earlier than 7:45pm and we've stuck to rising earlier, still up at what would have been 6 or 6:30am
before
the time change, which is actually 5 or 5:30. The upside to all of this? Getting to see a beautiful sunrise! That was the sky last Sunday morning.
If you need me, I will be in the kitchen.
The Whole 30
has me chopping, scrambling, baking and sautéing like a madwoman. Pretty much all I have done this week is shop for, cook and plan our meals -- which is quite possibly the most challenging part of this challenge. Today is day 5 and the thing I miss the most is chewing gum, which we weird because I would have thought I'd miss toast, cheese or coffee creamer. I'll give a more detailed rundown next week.
I saw
this article from the NY Times
this week about what children around the world eat for breakfast and it actually made me feel pretty good about O's eating habits. We always try our best to give him a well rounded breakfast (and lunch, snacks, dinner) but sometimes it seems really oddly matched, i.e., cheese stick / bacon / apple and peanut butter. Well, according to this list, having a variety of flavors is pretty normal for childrens' breakfasts around the world.
And I'm linking up with a whole lot of people today!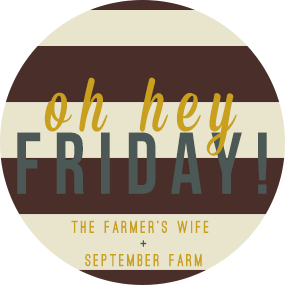 Friday Favorites with
A Little Bit of Everything
,
Momfessionals
, and
Grace and Love
.