As parents, we're always concerned about our child's development. We all wonder if we're "doing it right" and if we're giving them all the tools and opportunities they need to thrive. Did you know that 90% of the brain is formed by the age of 5? And that recent research also reveals that more than 80% of a child's brain is formed by age 3?
But this doesn't mean our children need extra school time or more intense lessons on the ABC's. They need time to play and be children! Time to read (or be read to), to sing, to talk and express themselves, and to explore the world around them. In the age of Pinterest we're all lead to believe that providing our kid's with a nurturing environment includes crafting involved, intricate and time consuming lessons for enrichment, when all our children really need is the opportunity to
Talk. Read. Sing.®
!
The nonprofit
First 5 California
was founded on the knowledge that the first 5 years of a child's life are the most significant years for brain development. The organization is on a mission to inform, educate, and inspire parents and caregivers to
Talk. Read. Sing.®
to their little ones starting from the day they are born.
On the
First 5 California website
you will find a wealth of knowledge and free resources to help you! There are videos from the President and First Lady, a free kit for new parents, tips on selecting the right preschool and an
Activity Center
filled with fun things you can do with your baby, toddler or preschool to exercise their brain and enrich their day!
I was inspired by all of the great ideas on their website, so today I have a truly simple activity that will encourage your child to talk, explore and discover their neighborhood with you! All you need to do is print out the page below and take your kiddos on a walk!
This activity is a great way to get outside with your children and can be used to entertain children ages 2 and up. It costs nothing and you can extend it as much, or as little as you need, and it costs nothing to do! Simply print my free printable (above) and attach it to a bag to hold all of your treasures.
Scavenger hunts are often thought of as something done at a party or with a large group, but they're still just as fun when done with a small family or group of children. When we did ours it was just us with Owen, but if we'd invited some friends along it would have also provided an opportunity to teach about teamwork and good sportsmanship.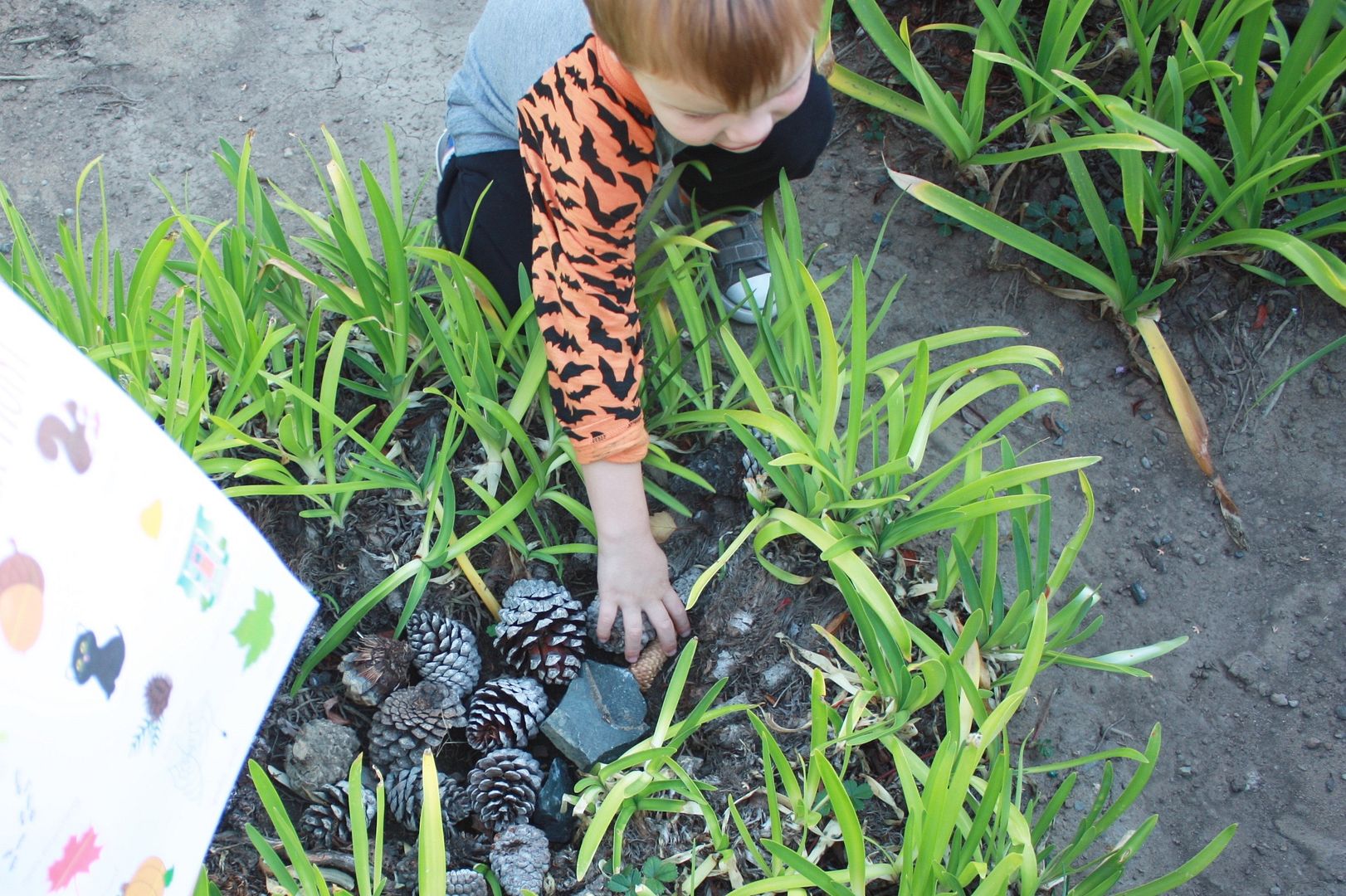 You obviously can't collect everything on the list or put them in your bag -- it would be hard to transfer the spider web, wrangle a cat or steal someone's decorations! Once you've collected everything you can you can go home and make a collage of all the things!
The
First 5 California
website is a great resource for activities for children from newborn to preschool. There you will find whole section,
the Activity Center
, filled things that parents can do with their kids to help stimulate the mind!
I'd like to invite you to join me in sharing all the ways you're enriching your child's day and exercising their brains by sharing your pictures and ideas on social media, whether isn't on
Twitter
,
Pinterest
,
Instagram
, or
Facebook
! Just remember to use the hashtags
#talkreadsing
#first5california
#first5CA
!